Southern Command (S/Comd), a formation of the Ghana Army, exhibited superb shooting skills to overwhelmingly sweep away all but 3 of the 14 awards at the 2018 Ghana Army Inter-Command/Formation Shooting Competition.
The 5-day training exercise, codenamed 'Exercise Thunderbolt 2018' was held at the Yawhima Shooting Range, near the Third Battalion of Infantry (3BN) Liberation Barracks, Sunyani from 27th to 31st August, 2018.
The competition involved the 4 Commands under the Ghana Army namely; the Northern, Central and Southern Commands, and the Support Services Brigade Group. It was organised by the Army to sharpen the level of weapon handling, marksmanship potential, teamwork and esprit de corps amongst the rank and file of troops.
The Guest of Honour for the competition, Brig-Gen John Kwaku Forkuo (rtd) iterated the vision of the Chief of the Army Staff to improve human resource development and added that High Command would adopt pragmatic and human-centered policies that would address welfare needs of service personnel in their various assignments.
Brig-Gen Forkuo also cited efforts being made to improve logistics support to better operational output and raise the morale of the Army.
Another objective of the contest was to select the best out of the firers to represent the Army at the upcoming Inter-Service Shooting Competition, which would take place in November 2018, at the same Range.
At the contest, each of the Commands availed 6 officers and 42 soldiers who competed in 4 main areas namely the M16 Rifle, M16 Retractable, Pistol and Falling Plates.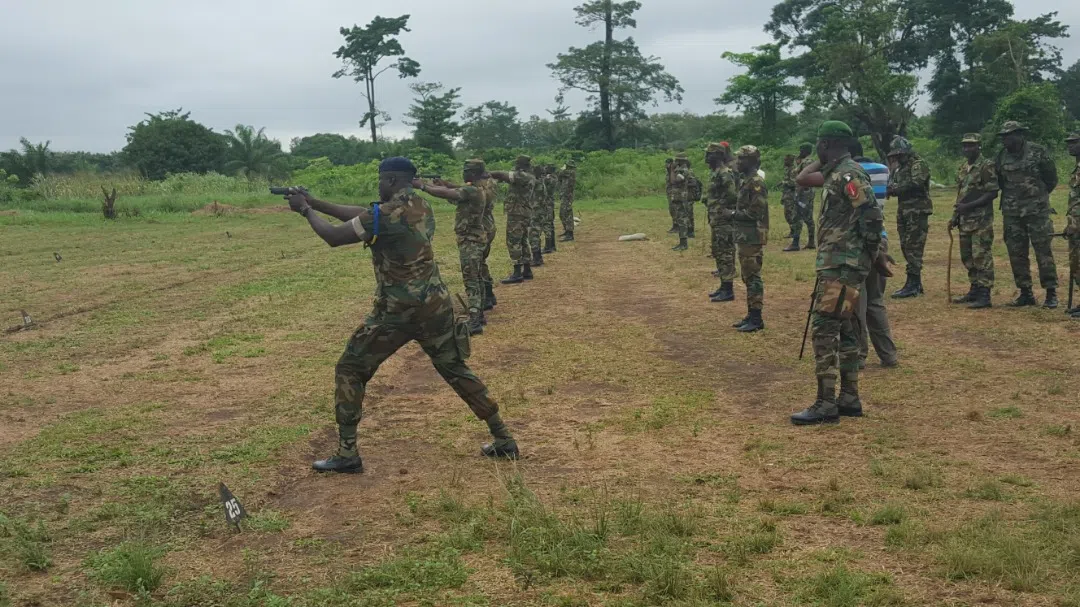 Awards presented among others included Overall Best team, Overall Best Individual male/female, Best Team and Individual M16 Carbine Shooting, Best Individual Male/Female Non-scoring, Taurus Pistol and Falling Plates, which were all won by S/Comd. But for the Overall Best Runner-up and 2nd Best Team M16 Carbine Shoot (Central Command) and one other Runner-up place for Support Services Brigade Group.
At the end of the competition, the scoreboard read 1st place – S/Comd with 2733 pts, 2nd place – Central Command with 2226 pts, 3rd place – Northern Command with 1950 pts and 4th place – Support Services Brigade with 1908 pts with awards which consisted of certificates, plaques and trophies.
Overall Best Individual, Best Individual Male and Best Individual Non-scoring went to Captain Albert Martey, Best Individual Taurus Pistol – Lt Mahmoud, Overall Best Individual Female and Best Individual M16 – L/Cpl Eugenia Agyei, Best Individual M16 Carbine Female – LCpl Franklina Bayiro, Best Individual M16 Carbine Non-scoring Male – Sgt Jackson and Best Individual M16 Carbine Non-scoring Male – Pte Agyei.
Dignitaries present at the closing ceremony amongst many were the Regional Minister designate for Brong Ahafo – Evans Opoku-Bobbie, Dr Evelyn Richardson – Municipal Chief Executive of Sunyani, Brig-Gen Francis Ofori – General Officer Commanding (GOC) N/Comd, Brig-Gen Alloh – Comd Support Services Brigade, Brig-Gen Thomas Oppong-Peprah – GOC, S/Comd, Col Y Salifu – who represented GOC of C/Comd and Director of Army Training – Col FN Tei.
Others were the Commanding Officer of 3BN – Lt-Col Daniel Adjetey, Sergeant Major of the Army – Master Warrant Officer (MWO) Addo, Nana Bunso Ababio – Chief of Yawhima and regional security agency heads.