Deputy Minister of Youth and Sports, Perry Okudzeto has stated that Government's decision to withdraw a petition the state filed earlier to liquidate the Ghana Football Association (GFA) and all its assets was based on FIFA dissolution of the executive committee of the association.
The Government of Ghana (GoG) was keen to dissolve the GFA following the massive corruption scandal and other illegalities that have engulfed the association.
However, FIFA issued an ultimatum of August 27 to the Ghanaian government to withdraw a court case meant to liquidate the embattled association after imposing an indefinite suspension on all football related activities.
Following FIFA's 10-day ultimatum, GoG sent a three-man delegation to meet world football governing body, FIFA, to engage in further deliberations on how Ghana can avoid a football ban while working to reform the Ghana Football Association.
In the aftermath of the meeting, FIFA in a media release, communicating the outcome of the meeting it held with the Ghanaian delegation, stating their preparedness to work with the GoG to curb corruption in the game.
Below is the media release from FIFA: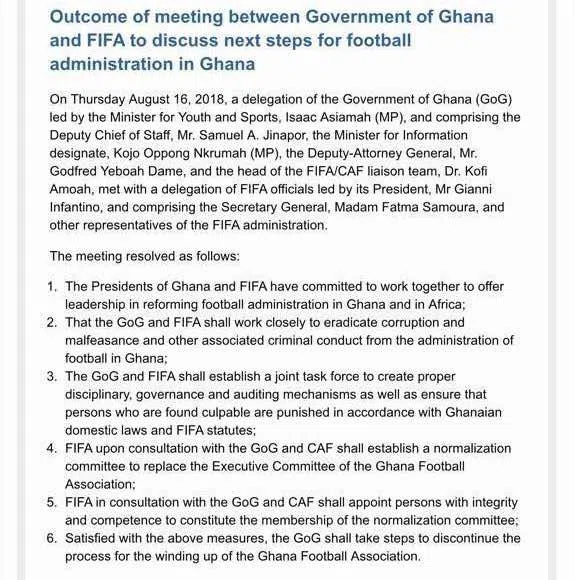 Mr. Okudzeto was quizzed by Happy FM's Anopa Bosuo Sports host, Ohene Bampoe-Brenya, if government is satisfied with the point six of the FIFA release before withdrawing the liquidation case from court, he said;
"Since FIFA dissolved the Exco members of the GFA, there was no need to continue with the liquidation process of the GFA," Mr. Okudzeto told on Happy FM.
"FIFA through their own channels will contact the GFA as to whether the GFA workers can go back to work or not. Government is on standby to collaborate with FIFA."
"Behind the scenes there has been progress and dialogue made that's why government has taken this step to discontinue with the liquidation process."
On Tuesday, an Accra High Court ordered the Registrar General's Department to return all assets in its possession belonging to the Ghana Football Association.
This follows Deputy Attorney General, Godfred Dame's application on Tuesday, to withdraw a petition the state filed earlier to liquidate the country's football governing body and all its assets.
The court has also revoked its earlier order appointing the Registrar General, Jemimah Oware, as the Official Liquidator of GFA.
By: Ayishatu Zakaria Ali