It seems life didn't treat Emmanuel Nii Adom Quaye aka Strika fairly after being featured in the popular movie, Beasts Of No Nation as he's been spotted begging on the streets for money.
Strika was one of the child actors in the movie and played the role of a child who has been emotionally broken by war and whittled down to a mindless killer. He became a good friend of Agu played by Abraham Attah in the movie.
In 2016, it was reported that he had been enrolled in school by the producers of the movie, Beasts Of No Nation. The story on Nydjlive.com stated that he had never been to school before, so after the movie, the producers decided to get him and one other boy to school.
We don't know what exactly happened but he's now on the streets begging for money to survive. We don't know for a fact if he decided to abandon the school on his own or the producers of the movie abandoned him to face his own fate.
According to what the Facebook user, Caleb a worker at Starr FM posted on his Facebook page, Strika told him he now works with a man who sells yam at Agbobloshie.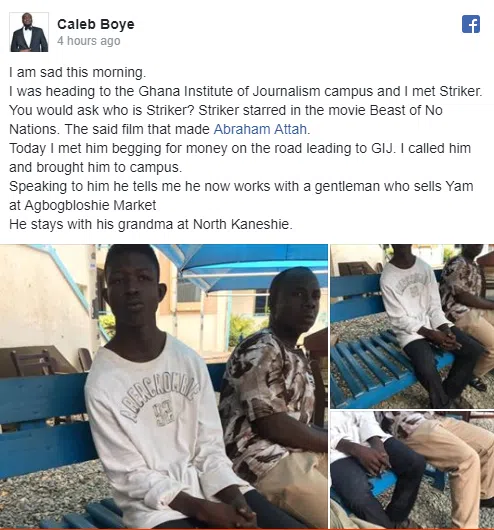 His full post read:
I am sad this morning. 
I was heading to the Ghana Institute of Journalism campus and I met Striker. You would ask who is Striker? Striker starred in the movie Beast of No Nations. The said film that made Abraham Attah. 
Today I met him begging for money on the road leading to GIJ. I called him and brought him to campus.
Speaking to him he tells me he now works with a gentleman who sells Yam at Agbogbloshie Market 
He stays with his grandma at North Kaneshie.
There are people who personally feel, Strika did exceptionally well just like Abraham Attah, so he should also have enjoyed the same things Abraham Attah is getting now after his role in Beasts Of No Nation.
Credit: Ghbase.com