Former President of the Republic of Ghana, Jerry John Rawlings, has passed on good wishes to the brother of John Dramani Mahama [Former President] for winning the 2018 African Achievers Award (AAA) in London.
Ibrahim Mahama, who is the Chief Executive Officer of Engineers and Planners, was given the award at the House of Parliament, Palace of Westminster.
Rawlings in a tweet said the award justifies Mr. Mahama's hard work.
"My warm congratulations go to Ibrahim Mahama on his recognition by the AAA as African Industrialist of the Year. This is a reward for your hard work, Ibrahim. Best wishes to you," Rawlings tweeted.
Many allegations of corruption were leveled against Ibrahim when his brother lost power in the December 2016 general election.
Ibrahim Mahama started his company, Engineers & Planners, in 1997 after his return from London.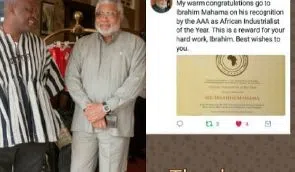 By: Joseph Nii Ankrah.