Accra, Ghana, June 28, 2018//-Ghana has earned an enviable reputation as one of the most investor friendly destinations among Africa's frontier emerging markets.
The West African country which economy is currently touted as one of the fast growing economy in the world is replete with a vibrant private sector.
But these are relatively new phenomena. Indeed, the liberalisation of the country's economy began 30 years which was preceded by a sheer  socialist approach to industrialisation immediately after its political independence in 1957.
The man at the realm of affairs at time was a firebrand socialist-Dr Kwame Nkrumah, who set in motion the socialist revolution, resulting in the establishment of many state-owned enterprises (SOEs) in the country.
After his uncouth overthrow in 1966, all his good socialist programmes and policies were callously discontinued by the military government of the day.
That military government began following the ways and doings of the colonial masters which further led to the opening of the small Ghanaian economy to the developed ones.
At during this time, the seed of capitalist economy was started to germinate fast in the country while that of Dr Nkrumah's socialist was starved with water and sunlight to die.
So, by 1980s under Jerry John Rawlings, the capitalist economy has become ingrained thereby leading to the emergence of entrepreneurs and corporate executives who could champion the country's economic transformation.
Although, Ghana's economic growth under the free market economy has largely been driven by foreign direct investment (FDI), concessional loans and grants from its development partners.
The FDI has resulted in a large foreign ownership and management of companies in Ghana, but the indigenes are increasingly rising up to the challenge too, by acquiring both the expertise and capital to stand shoulder to shoulder with their foreign counterparts.
To this end, African Eye Report presents a selection of 10 top icons of corporate Ghana, who have excelled in the management of private businesses, nurturing their respective enterprises they man into leaders of corporate Ghana as a whole.
This selection simply identifies 10 among the many corporate leaders of businesses in the country who standout from the rest.
The selection also depicts the diversity of the leadership strata of corporate Ghana with regards to foreign versus indigenous participation, and sectors of the economy.
This maiden edition is mainly for the male gender. It is deliberate but not the result of any prejudice on the female gender. However, the second edition of the selection will be based on female executives of corporate Ghana.
Here are the 10 top icons of corporate Ghana
Dr Joseph Siaw Agyepong
The desire to create and grow a business – large or small – requires a combination of character, talent, vision, energy, timing and a bit of luck.
What are some of the leading characteristics of a successful entrepreneur? Take Dr Joseph Siaw Agyepong as a case in point.
He stood against all odds to build the leading waste management company in Ghana and beyond-Zoomlion Ghana Ltd, which is a key subsidiary of the Jospong Group. It is one of the largest and fastest-growing conglomerates in Ghana with over 32 subsidiaries.
Today, Dr Agyepong is the Chief Executive Officer of Zoomlion Ghana Ltd and the Executive Chairman of Jospong Group. He started the business in a small office with small staff.
Founded in 2006, he focuses on delivering quality Waste Management and Scientific Cleaning services to Ghanaians and other African countries. The company is the main provider of an integrated Waste Management Solution from Waste collection, through haulage, transfer and sorting to recycling.
It is a member of the Environmental Service Providers Association (ESPA) of Ghana and a Silver member of the International Waste Management Association.
The company provides waste management services, door-to-door, communal container, evacuation of heaps, tricycle services including drain cleaning, environmental sanitation services, pest control, janitorial services, & road sweeping & training of waste management personnel; landscaping of road sides, medians and roundabouts; Landfill site management and construction.
Major innovations and achievement of the company include but not limited to the establishment of an ultra-modern compost and recycling plant, a waste management institute, the introduction of the tricycle concept and successfully operating in five (5) African countries.
The Zoomlion succeeded because Dr Agyepong who is the founder company and its parent company serves  the sanitation and waste management needs of the government and people of Ghana.
Dr Agyepong's customers are his most cherished assets, thus providing them with quality and prompt services is his first priority.
The company's mission is to be at the forefront of the environmental sanitation services industry in Ghana and beyond, by the introduction and utilization of simple but modern technologies and methods of waste management at affordable and competitive rates.
Since then Zoomlion Ghana Limited introduced the tricycle and bola taxi concept in waste management after seeing the Chinese employ the method with high success. Indeed, the company has revolutionized waste management in Ghana.
The company under the sterling leadership of Dr Agyepong has also introduced other innovative programmes including the construction of an Engineered Sanitary Landfill at Liberia through the World Bank, supporting of small Waste management companies with logistics through Alliance Waste, Construction of a Faecal Treatment plant and Sewerage System, and construction of Transfer waste station and Medical waste treatment facility.
The company has grown by leaps and bounds and become only waste Management Company that operates nationwide with offices in all 216 districts in Ghana.
Currently, Zoomlion Ghana Ltd with several subsidiaries has employed thousands of Ghanaians making it one of the largest employers in the country. It pays huge taxes to government to undertake development programmes in the country.
As an avid and astute entrepreneur, Dr Agyepong has many years of business development and management which embolden him to expand his businesses to other African countries.
He is a seasoned Entrepreneur, who always seeks for challenging opportunities as well as pioneering roles, to create new or grow businesses with the aim of creating employment and wealth to grow our economy, and to inspire others to achieve.
"I started the Jospong Group with one basic idea – to build an organization which is deeply committed to values, in the firm belief that success in business would be its inevitable, eventual outcome. Unflinching commitment to values continues to remain at the core of our Company" stated in his Linked profile.
Awards
Dr Agyepong whose name is a household name in Ghana is the proud recipient of several awards. He was adjudged the Overall Best Entrepreneur of the Year 2011 by the Ghana Entrepreneurs Awards. The Ghana Entrepreneur Awards is aimed at honouring outstanding Ghanaian and foreign resident entrepreneurs for their contribution to economic growth and job creation in the country.
Dr Agyepong was also awarded the Order of the Volta in 2008, the Millennium Excellence Award for Leadership in Industry, the Most Marketing Oriented Company by the Chartered Institute of Marketing, Ghana (CIMG), among others. For Dr. Agyepong, his greatest aspiration is to see Ghana become a filth-free country.
Samuel Amo Tobin
Samuel Tobin who is the CEO of Tobinco Pharmaceuticals Limited (TPL) is a man of many parts-anentrepreneur, a church leader, and a philanthropist.
As an entrepreneur, he turned his small-sized firm into one of the leading pharmaceutical marketing and distribution company in Ghana.
He is currently looking forward to producing other products locally from its state of the art manufacturing plant by way of backward integration to tap into the Economic Community of West African States(ECOWAS) market.
Furthermore, as a free zone board facility, 70% of the manufactured medicines will be marketed and distributed globally, particularly the African sub regional market.
TPL seeks to gain a significant share of the African market with its own brands in the first year of Manufacturing Operations.
TPL has historically focused more on marketing and distribution of ACT's and in recent times increased its range to cover over the counter drugs (OTC's) Antibiotics etc.
Mr Tobin who is also the Executive Chairman of TPL has over 20 year experience in managing business is a household name in Ghana and beyond.
The mission of the company he leads is to consistently deliver the safest, high quality and most potent pharmaceuticals and other healthcare products; using highly motivated and competent human capital with an incredible passion for innovation, excellent and superior customer care.
Recently, Mr Tobin became the latest media investor following his acquisition of  a Tema based Sena Radio and rebranded to Atinka 104.7 FM.
The radio station located at Kokomlemle in Accra, with the ambition to deliver the best of radio experience to Ghanaians is owned by Samuel Amo Tobin.
Samuel Amo Tobin received awards because of his outstanding leadership and acumen entrepreneurial skills.
He was adjudged the Marketing Man of the Year 2010 by the Chartered Institute of Marketing (CIMG).
Mr Tobin's love and care for the under-privileged people in the society is beyond legendary.
Some few years, the humble and soft-spoken Mr Tobin handed over school blocks worth GH¢500,000 to two institutions in the Volta Region to mark his 50th anniversary.
Alhassan Andani
You can't talk about banking in Ghana without mentioning the name-Alhassan Andani. He is a walking encyclopedia of the country's banking industry. He  has over 20 years experience banking.
Mr Andani who is the Managing Director of Stanbic Ghana Limited, a subsidiary of Standard Bank of South Africa Limited, one of South Africa's largest financial services groups, operating in 20 countries across Africa and other key markets around the world.
Under his dynamic leadership, the Stanbic Ghana grew from a two-branch operation into a full-fledged tier-one bank with offerings covering the full stretch of banking services and products, a feat which has been recognised both locally and internationally. He was crowned the Marketing Man of the year- 2014 by the Chartered Institute of Marketing, Ghana (CIMG). This was at the 26th National Marketing Performance Awards 2014 at the Banquet Hall, State House in Accra.
While Stanbic was adjudged the Best Investment Bank for the year 2013 by the renowned EMEA finance magazine.
For the past 10 years, the bank's growth has been mainly attributable to its deep understanding of the key issues, trends and challenges facing companies doing business in Ghana.
Thus, with Mr Andani at the helm, the bank has significantly improved its service delivery system, increased its footprint to 39  branches, over 100 automated teller machines (ATMs) and over five Cash Service Points across the country.
Also, the bank  has also upgraded its systems to a world-class banking platform, enabling Stanbic to better understand clients' needs and structure personalised solutions for them.
Furthermore, the channels' outfit has also been enhanced further catapulting the bank from traditional branch banking to electronic transactions and cards.
MoneyWallet, a multi-currency card that allows customers to upload four different currencies on one wallet for use in different localities, was introduced onto the market in 2014. The bank also provides money services for its clients in all parts of the country.
In recent times, Stanbic Bank Ghana has financed big ticket projects such as the Stanbic Heights, One Airport Square, Aviance, and West Hills Mall and participated in the annual COCOBOD loan syndication.
Alhassan Andani holds a Bachelor of Science Degree from the University of Ghana, Legon in 1984 and obtained a Master's Degree in Banking and Finance from FINAFRICA, Milan, Italy in 1992.
In 1999, he obtained an International Management Certificate at INSEAD, Fontainbleau, France.
Mr Andani began his banking career as a Project Officer at SSB Bank Limited in 1984 and rose through the ranks to become the Regional Project Manager, Upper Regions in 1987.
He joined Standard Chartered Bank in 1993 as an Account Relations Manager, a position he occupied until December 1995, when he was made Regional Manager, Domestic Corporate.
Mr Andani joined Barclays Bank Ghana as Executive Director, Corporate Banking, in April 2000. In 2004, he was made the Deputy Managing Director of the bank.
He was sent to Johannesburg, South Africa, as Director, Non Presence Countries at Barclays Africa between July 2005 and March 2006, when he was poached to lead Stanbic Bank Ghana as the Managing Director, a position he has occupied till date.
Mukesh V. Thakwani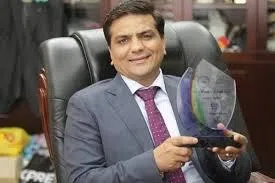 B5 Plus Limited in Ghana which is one of the fastest growing steel companies in West Africa is living the dream of its founder Mr. Mukesh V. Thakwani.
He stood against all odds to build the leading steel company. Today Mr. Mukesh V. Thakwani alias Mike is the Chief Executive Officer of B5 Plus Steel Industry, located in Tema in the Greater Accra Region of Ghana.  He started the business in a small office with small staff.
Founded in 2002, he aims at providing highly customer-centric product with excellent relationship building skills to customers.
The company succeeded because he served the needs of the indigenous building and construction industry, plethora of distributors and retailers, as well as business organizations/people not catered for by other steel companies in Ghana and beyond.
Mr. Thakwani's customers are his most prized assets, thus providing them with quality and prompt services is his first priority, according to the business magnate.
From a very humble beginning, B5 Plus Ltd has grown by leaps and bounds and become one of the premier steel industries in the West African region.
Currently, B5 Plus Ltd with several subsidiaries including DPS International has staff strength of over 1,200.
As an avid and astute businessman, Mr. Mukesh V. Thakwani has a rich experience of 25 years in steel industry in the African business landscape.
He is the proud recipient of the European Award for Quality and Excellent Services award, 2013, and was recently crowned the West African Personality of the Year 2015 by the Business Executive Magazine, a leading international magazine in West Africa.
Mr. Thakwani's leadership potentials and the unflagging pursuit of excellence have won himself and his business enterprise a plethora of awards including the few listed above.
His personal journey has taken him from India to West African countries like Liberia, Togo, and Benin since 1988, before settling down in Ghana to highly-successful, and multiples award-winning entrepreneur. That journey has helped him to acquire an incredible business expertise.
The soft-spoken entrepreneur's career with B5 Plus Ltd as well as other endeavours such as his role the Managing Director of Young Industries Limited, Tema, Ghana;  Young Industries Limited,  a Steel Manufacturing and a Trading Company; the Managing Director of F.G. Developers Limited, Tema, Ghana;  F.G. Developers Limited, a Warehousing and Real Estate Development Company in Ghana; and the Managing Director of Steel Mali S.A., Bamako, Mali, has been characterised by a desire to encouraging entrepreneurial spirit in the West African sub-region.
Mr. Thakwani is referred to by his plethora of admirers and colleague captains of industry as the "Doyen of West Africa's Steel Industry".
He guided the way and did it with skill, style and high passion and dexterity. Mr. Thakwani had the right products and services at the right time – which translated into high demand on a mass market scale.
But all that would have been worthless without Mr. Thakwani unique brand of commitment, passion, high energy and determination.
He believes that every C.E.O/MD should have four essential qualities to succeed in this new millennium. These are-listen effectively, be an industrious entrepreneur, possess a cross – functional approach to solve problems, and shrewd common sense combined with discerning power.
Mr. Thakwani's relentless efforts to propel B5 Plus Limited to the acme of excellence, have established benchmark of customer service and quality for steel industries in Ghana.
Being a self-confident, organized, and motivated personality, he brings creativity and an entrepreneurial spirit to all business endeavours.
Mr. Thakwani thinks that the world is bursting as it seems with the rapid advancement in technology and the need of the hour is productive and potent mechanism with free and fair competition.
Tenacity, perseverance and courage are other characteristics of the world's most successful entrepreneurs which he employed into the business.
He needs a high level of tolerance for risk. Mr. Thakwani and his dynamic team believe in themselves, sometimes against great odds. And they have prepared to pick up the pieces and start over again if there were challenges. But God being good, they were able to sail through.
AWARDS 
Mr. Thakwani's sterling leadership and entrepreneurial skills has won him and his company a number of laurels. Among his awards incclude:
❖Pillars of Modern Ghana Awards Presented to B5Plus Limited, Category: TNG, ​Steel Fabrication Company in Ghana for the year 2014
❖The Biz 2014 – Mr Mukesh V Thakwani in recognition of Excellence in Business Management, with all its rights and privileges given in the city of Abu Dubai, UAE, 2014
❖AGI Ghana Industry Awards – Certificate was presented to B5Plus Limited for being best company in the metals, buildings & construction sector in the 3rd AGI Ghana Industry, 2014
❖Head of state awards Scheme certificate of Appreciation presented to B5 Plus for sponsoring the 3rd Annual Award Gala & HoSA Ghana Business Award 2015 held at the banquet hall, State House, Accra.
❖Global Trade Leaders Club – awarded to B5 Plus Limited with International Europe Award for Quality in recognition of its commitment to the quality and excellence of its services, 2013.
❖Ghana Revenue Authority – awarded for the most improved Taxpayer, Custom Division 2013
❖ MISE Foundation – Certificate of Appreciation presented to B5 Plus Limited in recognition for their unreserved commitment for supporting Mathematical sciences Education in Ghana through the work of MISE Foundation.
❖ Biz 2014 – WORLD Leader Business Person Awarded to Mr Mukesh V Thakwani for being successful leader who works in an innovative Knowledgeable and systematic manner,  given in the city of Abu Dhabi, UAE on September 28th 2014.
Joseph Mensah
Joe K. Mensah is the country manager for Kosmos Energy Ghana HC, a wholly owned subsidiary of Kosmos Energy Ltd. He took office in July 15, 2015.
He took over from Ken Keag, who retired from the company at the end of July 2015 as part of a mutually agreed succession plan.
Since 2015, Mr Mensah has been implementing strategies to take the oil exploration company far.
Under Joe's leadership, with a 100 percent Ghanaian staff, supported by an independent advisory council comprised of respected Ghanaian business leaders, Kosmos is uniquely positioned among international companies to understand local interests and create a shared agenda that is mutually beneficial to both company and country.
He has extensive business experience and joined Kosmos most recently from IBM Ghana, where he was the Country General Manager in charge of all aspects of the company's operations.
During his more than 30 years with IBM, Mr. Mensah held a variety of leadership roles in sales and marketing before establishing IBM's presence in Ghana in 2009.
"Joe brings extensive local and international experience to Kosmos, and is an excellent addition to our team," said Andrew G. Inglis, Kosmos' chairman and chief executive officer.
Dr Noble Prince-Joseph Kofi Ayiku
Dr Noble Prince-Joseph Kofi Ayiku is the Managing Director of Lakeside Estate Limited, a subsidiary of Japan Motors Trading Company with over 15 years of management experience in estate enterprising, business development, Estate financing, marketing and human relations.
He joined the company as the Finance Manager but due to his financial management acumen, the company's finances started taking a robust shape; encouraging outright productivity, laden with effective financing and marketing principles. These effective leadership and management skills later catapult him to the position of managing director.
Since joining Lakeside Estate in 2001, he has changed the direction of the company by enhancing the relations between the company and clients and stakeholders; harnessing the credible brand of the company, which has further distinguished the organization in the estate industry.
Dr Noble Prince-Joseph Kofi Ayiku's spectacular leadership style and skills, coupled with his human relations and expertise in analyzing stakeholders expectations has brought peace, stability and development to its external environment.
He led the company, with his team, to win the Best Recreational Park of the year in 2011 for the second time consecutively at the Ghana Property Awards. In 2012, Lakeside Estate won the Best Developer of the Year Award (Low-income category) at the 5th Ghana Property Awards.
He personally won several awards to his credit.  He won the 'Emerging Executive of the Year' award the third Business Excellence Award held at Golden Tulip on April 26, 2016. The award was organised by the Business Executive Magazine, a leading monthly magazine.
Dr Ayiku also won International Noble Award by the West African Nobles Forum for exhibiting high level of integrity and morals in his business.
Dr. Ayiku was among 29 selected distinguished individuals from both the public and private sector in the West African sub-region who were recognized for being an eminent West African who upholds the virtues of honesty, integrity and accountability.The West Africa Nobles Forum, a group of eminent West Africans, is a non-governmental, non-religious and non-profit making organization with its headquarters in Accra, with a membership of over 1,000.
The Forum works to compliment the efforts of the ECOWAS secretariat to make the ECOWAS dream a reality, and has been collaborating with West Africa International magazine to annually honour men and women of integrity in the sub-region.
He has built over the years, an effective marketing and human relations team with sparkling working performance, using the best practices around the world which reflects in the company's productivity.
Lakeside Estate, a leading player in the real estate industry, through his leadership and efficient operations, has been built around high standards, with robust technologies to improve staff performance and increase customer satisfaction.
With his outstanding success in re-engineering the Lakesides business strategy, and with effective management of the people and implementation of verifiable processes required in achieving the new business direction, Dr Noble Prince-Joseph Kofi Ayiku is considered one of the promising emerging captains of the Real Estate industry.
Dr Noble Prince-Joseph Kofi Ayiku, who is well read, holds Masters in Business Administration, Finance option, Bachelor degree in Commerce from University of Cape Coast, Post Graduate Diploma from Ghana Institute of Management and Public Administration (GIMPA), and a list of certificates in Risk Management, Information Management, and Best practices in Financial Accounting, all from the University of Ghana.
In August 2016, The Managing Director of Lakeside Estates Company Limited, Dr Ayiku was awarded a Doctor in Business Administration (DBA) from the London Graduate School, Commonwealth University, UK. He was awarded at a ceremony in Dubai for his sterling performance in the real estate industry.
Dr Ayiku caps it all with a professional certificate in Project Management from Merjja Technologies, Ontario Canada to enhance his construction knowledge.
Bhagwan Khubchandani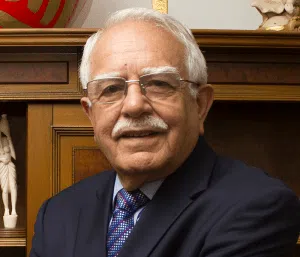 Mr. Bhagwan Khubchandani is a first-mover and achiever. He is accredited as the pioneer of departmental stores shopping in Ghana. That shopping culture which Mr Khubchandani introduced in Ghana in the late 1980s is now gaining ground.
His numerous achievements in business, corporate governance, and philanthropy are yet to be celebrated publicly in Ghana. But his stellar success story has been hailed globally with awards and panegyrics.
Mr Khubchandani is who the Group Chairman, Melcom Group of Companies is  an entrepreneur par excellence of no mean measure and cheerful giver with a big heart towards humanitarian causes. With all these achievements following through his thumb, Mr Khubchandani is a great personality who nobody can arguably beat.
Mr Khubchandani's visionary efforts, vast experience in import, export, manufacturing, finance, investments and leadership, are the foundations that led to the success of the Melcom Group of Companies.
Meteoric Rise
Mr Khubchandani started the company from very humble beginnings in the late 1980s to provide branded products and services in Ghana.
He stood against all odds to build the leading supermarket chains company which has branches in almost all the major cities and small towns in the country.
With the rise of supermarkets in the country, most industry watchers say Melcom is still the foremost and fastest growing supermarket conglomerate in Ghana and beyond.
His starting-up story is not different from the hundreds of entrepreneurs profiled by the Business Executive but his ambition to provide groceries to millions of poor and middle-class Ghanaians at affordable price is unique.
That derive has emboldened Mr Khubchandani and his team at Melcom Group to sign distribution partnerships with numerous leading global brands. These include:  Sharp, a global leading electronics giant; Samsung; Panasonic; Nokia; and Binatone.
The company succeeded because he served the needs of the people as well the government, plethora of distributors and retailers, among others.
Mr Khubchandani's customers are his most prized assets, thus providing them with quality and prompt services is his first priority, according to the business magnate.
Currently, Melcom, a leading business conglomerate in Ghana, also caters for other brands and industries,  including its own malls, plastics factory, and travel agency has staff strength of over 1,500, with a huge annual turnover. While the Melcom supermarket chain alone has over 34 supermarkets throughout the country.
His personal journey has taken him from India to Japan, Hong Kong, and Nigeria  over five decades, before settling down in Ghana to highly-successful, and multiples award-winning entrepreneur. That journey has helped him to acquire an incredible business expertise.
As a avid and astute veteran entrepreneur, Mr Khubchandani has a rich experience of over 60 years in business.
The soft-spoken Mr. Khubchandani is referred to by his plethora of admirers and colleague captains of industry as the " Veteran Entrepreneur of Ghana".
He guided the way and did it with skill, style and high passion and dexterity. Mr Khubchandani had the right products and services at the right time – which translated into high demand on a mass market scale.
But all that would have been worthless without his unique brand of commitment, passion, high energy and sheer determination, and the zeal to create several employment opportunities for the teeming young people in the country.
Today, Mr  Mr Khubchandani as well as his company has become a household name not only in Ghana but abroad.
Mr  Khubchandani believes that a healthy and a happier work force retain customers as a result the company under his leadership continues to invest hugely on human resource development. This tenacity of purpose seed sowed by Mr Khubchandani has germinated and grew to become nerve centre of the country's economy.
As an indomitable entrepreneur, he never allowed the different headwinds to weigh him and his dependable team down. He rather turned those challenges into gold opportunities.
As father, and grandfather, Mr  Khubchandani always advises the youth in the country to always "Aim high…You will only hit what you aspire for" .
Awards
In addition to these, his leadership potentials and the unflagging pursuit of excellence have won himself and his business enterprises plethora of local and global awards including the few listed above.
Last year, he was inducted into Ghana Entrepreneurship Foundation's Hall of Fame in recognition of his tremendous contributions towards the development of the private sector and the country at large.
Mr Khubchandani received the Special Entrepreneur Achievement Award at the Ghana Entrepreneur Awards in Accra in 2011. The Ghana Entrepreneur Awards is aimed at honouring outstanding Ghanaian and foreign resident entrepreneurs for their contribution to economic growth and job creation in the country.
The initiative is also to reward the capabilities of entrepreneurs running Small and Medium Enterprises, to encourage more people to get into entrepreneurship, as well as support existing entrepreneurs in creating jobs.
Furthermore, the Chartered Institute of Marketing Ghana (CIMG) has recognised him for his lifetime achievements and honoured him with a Special Award in the National Marketing Performance Awards – 2010.
His support to the people of Northern Ghana was appreciated at the third Northern Youth for Peace and Development (NYUPED). Mr Khubchandani  was elected as the National Achievers Award in 2014, and Man Of The Year in recognition of his dedicated and enormous service towards development.
The Melcom Group Chairman was unanimously nominated as awardees in the third NYUPED National Achievers Award held under the theme: 'Honouring society's great benefactors, NYUPED's platform for national recognition'.
Organisers of the award said Mr Khubchandani was honoured for his company's effort at building and improving educational infrastructure and provide jobs for the unemployed in Northern, Upper East, and Upper West regions which constitute Northern Ghana.
Mr Khubchandani is the recipient of Expat-The Settler Award at the 2016 EMY Awards.
Alhaji Mustapha Boateng
Alhaji Mustapha Oti Boateng Founder/CEO of Chocho Industries Company Limited is undoubtedly West African market leader in herbal based cosmetics.
The company which produces over 10 different products including Chocho Cream, Chocho Soap, Chocho Balm, Chocho Herbal Tea, Chocho Hair Fertiliser, Chocho Hair Food, Chocho Hand and Foot Cream and Chocho Skin Toner started started as a petty family business.
But with Alhaji Boateng's unique business acumen, he turned the family business into a multimillion-dollar company employing over 2,000 people directly and indirectly.
The company succeeded because he served the needs of the people, distributors and retailers, as well as business organizations in Ghana and beyond.
Alhaji's customers are his most valued assets, thus providing them with quality but affordable products is his first priority. This attribute of outstanding customer satisfaction has resulted in fast growth and enhanced market share for the company, according to him.
"We at Chocho always maintain our great reputation earned over the past years to supply the best skin care products to our cherished clients".
When Chocho entered the herbal market in the West African Sub-region, the range of products were increased and Chocho Balm was introduced by considering the customers demand for an effective pain reliever.
Chocho herbal tea was also introduced in 2007. The main reason for the success of Chocho over the years was the focus on customers' needs, being innovative, dependable, reliable and responsive.
Besides, outstanding quality development in line with increasing market expectations made it possible for Chocho to maintain a sustainable growth, which made Chocho the leading manufacturer and distributor of quality Chocho Cream, Chocho Beauty Soap and Chocho Balm.
The company uses herbal ingredients in the products to treat skin disorders and enhance skin health and other diseases which prevalent in Ghana and the West African sub-region.
In addition, customer needs and customer satisfaction as well as value for money is the focus followed religiously by Chocho industries and as a result Chocho discovered efficacious herbs that Chocho magnanimously converted into Tea, Chocho herbal tea.
This is in line with Chocho's vision: "To lead the world into the tropical forests where herbs, roots, seeds, barks, spices and oils are found and utilized; treat skin diseases within the African Sub-region even after the demise of the founding generation".
As narrated by Alhaji Boateng, he used to produce herbal soap and cream for friends to try in Accra in 1999, but Allah (God) being so go the business has now become a full-fledged company, situated in Suhum in the Eastern Region of Ghana.
He uses tropical herbs for his products and the secret of his success is that whatever is indicated on the products as being what they are capable of doing is true. "Chocho products are of very high quality and what the products cannot do we do not indicate on the label," Alhaji Boateng stated.
Another unique aspect of Chocho Industries is that after extracting oil from palm nuts, the other residue of the nut, such as the chaff and kernels, are used to generate heat for the production of the soap and other products.
He said most of Chocho's products which are in high demand can be found on many shelves outside the country, such as the USA, the UK, Canada and other African countries. The company also has plans of opening a shop in Sierra Leone to market its products.
Good packaging has a way of attracting people to buy products and Alhaji Mustapha says he is very much aware of that, adding that because of his printing background he ensures that Chocho products are well packaged.
Awards
Alhaji Boateng is recipient of several awards. He was ajudged the Overall Best Entrepreneur of the Year 2013 at the 4th edition of Ghana Entrepreneur Awards. Ghana Entrepreneur Awards is organized annually by Entrepreneur Foundation to recognise outstanding Ghanaian entrepreneurs and non Ghanaian resident entrepreneurs who continue to contribute towards national development through spurring job creation.
In 2016, he was awarded by the prestigious West African Regional Magazine (TWARM) Achievers  for Business Leadership in the Herbal Sector for the innovative Chocho range of products, which are the most patronised in the continent.
Born on December 1950 at Kwabeng in the Eastern Region of Ghana, Alhaji Mustapha Boateng is a story of determination, persistence honesty and success. He attended a local Presbyterian School in Kwabeng and further trained as a printer at the world's renowned Raqeen Press in London.
Alhaji Mustapha also attended a lot of training seminars both in Ghana and abroad including certificate programme in corporate governance and leadership and recently held World Conference on Religion in London. He also doubles as the Eastern Regional President of Ahmaddiyya Muslim Mission and the Jaidad of the Mission in Ghana.
Joseph Asumang
Ghana's Information and Communications Technology (ICT) industry recorded major history on its calendar when one of the world's software giants, Oracle, opened a full-fledged office in Ghana last year.
Located in the latest toast of commercial properties in Ghana – the Stanbic Heights – Oracle proclaimed it was ready to serve its clients in Ghana better and offer consulting services to private and public sector entities in the country and across the sub-region.
The man who is behind this success is the Country Manager for Oracle Ghana, Mr Joseph Asumang.
He said a corporate office in Ghana "demonstrates Oracle's commitment to doing business here and supporting our customers and partners in West Africa."
Mr Asumang is the heading team to ensure that Oracle provides ICT solutions to companies in Ghana and West Africa as a whole.
Prince Yemi Adetuwo
He is the Managing Director/Chief Executive Officer of Equity Assurance Limited (ea). The company is the Ghanaian subsidiary of Equity Assurance Plc of Nigeria, a company which was incorporated in 1991.
The Equity Assurance Limited (ea, the Ghanaian subsidiary was given approval by the National Insurance Commission (NIC) under the Act 206 (Act 724) on 28th February 2008 to operate as a Non Life Insurer and in May of the same year opened its doors to underwrite all lines of General Insurance Business.
Mr Adetuwo, therefore is leaving no stone unturned in his bid to take Ghana's insurance market by storm. His hard work is paying off evident from the progressive year-on-year growth of Equity Assurance Ghana Limited.
He had his University education at the University of Lagos, Enugu State University of Science and Technology, and Ghana Institute of Management and Public Administration (GIMPA Law School) respectively.
He read law at GIMPA Law School, Ghana. He is an associate of both the Chartered Insurance Institute of London and Nigeria.
Mr Adetuwo is also a member of the society of Fellows of the CII, London as well as a fellow member of the Insurance Institute of Ghana.
He is a seasoned insurance practitioner who had his technical and management training, apart from Nigeria, in London and Zurich, Switzerland, amongst other international Countries.
He has acquired about thirty years insurance industry experience both in Nigeria and Ghana.
Mr Adetuwo joined Equity Assurance Plc of Nigeria in 1995 where he rose to the position of General Manager, technical operations before he was appointed as the MD/CEO of Equity Assurance Limited (Ghana) in 2008.
Under his dynamic and visionary leadership, the company was adjudged as the Outstanding Insurance Company of the Year, 2015 by the Business Executive Magazine, a monthly business magazine in Ghana.
Since 2014, Equity Assurance Limited has always made it as a member of the Ghana Club 100 (GC 100). It is an annual compilation of the top 100 companies in Ghana to give due recognition to successful enterprise building and was launched in 1998 by the Ghana Investment Promotion Centre (GIPC).
The GC 100 is also about corporate. Companies making it into the GC 100 are to serve as role models for the private sector and provide a forum for corporate Ghana to interact with the government at a high level.
Through the Equity Assurance Limited (ea), the seasoned business executive has supported many civil society organisations with several thousands of Ghana cedis.
These include the Otumfuo's Educational Foundation, and the Motor Traffic and Transport Department (MTTD) of Ghana Police Service in Sekondi in the Western Region.
Mr Adetuwo has also extended his generosity to a number of individuals, especially students of both secondary and tertiary education.
By Masahudu Ankiilu Kunateh, African Eye Report