A Nigerian student of the Chukwuemeka Odumegwu Ojukwu University, Anambra State, was walked out of the exam hall for dressing like ace Ghanaian undercover investigative journalist, Anas Aremeyaw Anas.
Anas, an undercover investigative journalist, is known for wearing a mask to maintain his anonymity.
A 200 level student of the department of Mass Communication at the aforementioned institution decided to emulate the renowned journalist to an examination hall which triggered the wrath of the school authorities.
The student reportedly said Anas Aremeyaw is his role model and insisted on taking one of his exams looking like the journalist he wants to be like in future.
When he walked into the exam hall in a mask, his classmates were stunned at seeing that he finally followed through with his words.
The joke ended when examiners walked into the hall and saw him sitting with a mask covering his entire face. He was ordered to leave the class or the school security will be called to escort him out.
At first, he hesitated, but was eventually dragged out of the class by one of his course mates who was upset that he was delaying the commencement of their exam.
Check out the pictures below: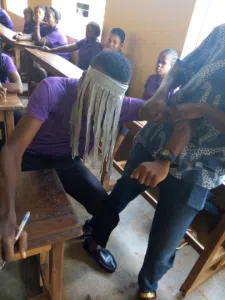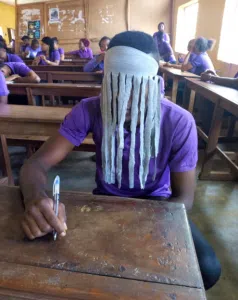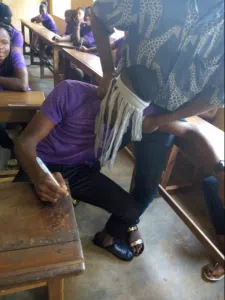 By: Joseph Nii Ankrah