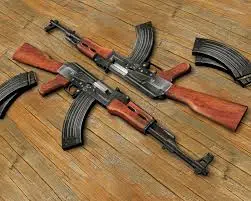 The Ghana National Commission on Small Arms and Light Weapons has revealed that a total of 2.1 million unregistered guns are lurking in the system.
According to the commission, people acquired the said guns illegally to protect themselves among other things in the country.
J.B. Asante of the commission made revelation in an interaction with Kwame Afrifa-Mensah on the 'Epa Hoa Daben' afternoon show on Accra-based Happy FM.
He said level of guns in the system is made up of locally manufactured ones and foreign ones.
He stressed that are about 1.5 million are foreign guns with the remaining being locally manufactured in the system as of the moment
He claimed that the situation of people seeking personal protection has led to alarming levels of guns in the wrong hands across the country.
This coupled with the illicit manufacturing of guns by blacksmiths have escalated the situation of illicit guns in the system.
According to him, in Ashanti Region blacksmith are manufacturing guns that look like the AK 47 assault rifle.
It is view of this, he called on the blacksmiths to form an association to enable them peer review their operations.
We will continue to educate them about how dangerous their operations can be to the society and themselves.
He took the opportunity to appeal the government to procure scanners for the ports and border post to check the activities of gun running in the system.
Source: Happyghana.com