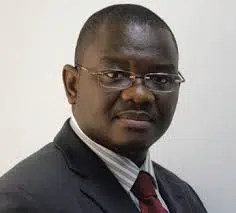 A group calling itself Movement for Change, a pressure group sympathetic to the main opposition National Democratic Congress  has entreated the leadership of the party to call the former Chief Executive Officer of the National Health Insurance Authority (NHIA), Sylvester Mensah  to order in his quest to lead the party for the 2020 elections
According to the group, the former NHIA CEO is  dividing the party along tribal lines even before the party it goes to the primary next year.
Joe Kwei ; the former CEO is going round telling party supporters that he is Ga and Ewe so these category of people in the party should consider his candidature ahead of all others.
He said the claims by the politician that he is  a better man to lead  the party is distasteful  and he must  be made face his utterances.
He said the posture of NHIA boss will further divide the party going forward.
Mr. Kwei made this comment on the' Epo Hoa Daben' show on Accra-based Happy FM hosted by Kwame Afrifa Mensah in reaction to the former CEO's statement that he is a better man to lead the party.
He said the actions of the CEO must be nib in the bud as early as possible to prevent the party from being divided on tribal lines.
The way the politician is going will spell doom for the NDC going into the 2018 primary.