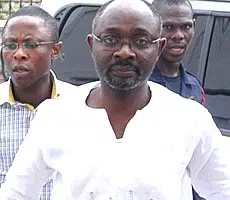 The governing New Patriotic Party (NPP) has revealed that since the president Nana Addo Dankwa Akufo-Addo announced his intention to establish a Special Prosecutor's office to independently prosecute corrupt cases in the county the legal tussle with Alfred Agbesi Woyome has taken a new twist.
According to a member of the communications team of the party, since the president announced his decision and Parliament subsequently passed the Bill for the Special Prosecutor's office, Mr. Woyome has been making frantic efforts to have the moneys, he allegedly looted from government paid.
Mohammed Awal, made this comment on the 'Epa Hoa Daben' show hosted by Kwame Afrifa Mensah on Accra-based Happy FM.
He said the passage of the Special Prosecutor's office has sent shivers down the spine of the many National Democratic Congress (NDC's) appointees who looted state resources under the watchful eyes of ex-president John Dramani Maahama.
He said the ex-president was watching his appointees to loot from the state and the only action he took was to make them refund what they have looted.
He said the almighty Alfred Agbesi Woyome after using the courts to bamboozle his way through prosecution over the years has started making efforts to have the moneys he allegedly stole paid.
So he has paid fifteen million Ghana Cedis out of the 51 million Ghana Cedis the amount he looted from the state under the late president John Evans Atta-Mills.
He called on Ghanaians to stay calm for the Special Prosecutor's office to kick starts it operations and bring all those who have stolen from the state to book.
He reiterated that since Parliament passed the Bill many of the NDC appointees have had the stomach running all day like they have taken purgative.