Usain Bolt has been stripped of one of his Olympic gold medals from the 2008 Games in Beijing.
The Jamaican sprinter has had to relinquish his medal following a doping case into teammate Nesta Carter – who tested positive for a banned substance.
Jamaica won gold in the 4x100m after Carter, Michael Frater, Bolt and Asafa Powell finished the race in 37.10 seconds – a world record at the time.
Trinidad & Tobago finished second, while Japan took bronze.
On Wednesday, the International Olympic Committee announced Carter had tested positive for methylhexaneamine.
Jamaica, the committee announced, has now been retrospectively disqualified from the race.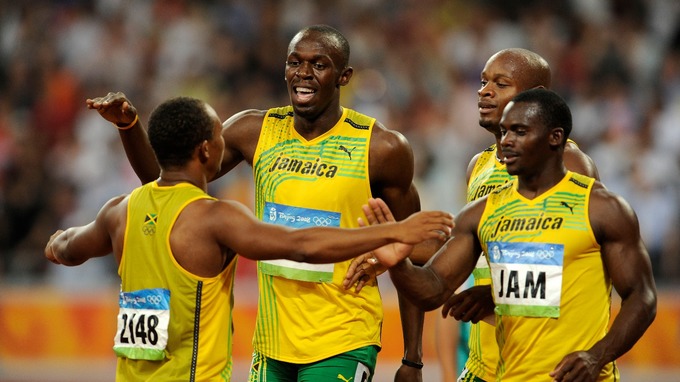 The relay was 30-year-old Bolt's third of nine Olympic golds – the first two which he also won that summer in China.
He went on to win three golds at both London 2012 and Rio 2016.
Following his success in Brazil, Bolt – who intends to retire from athletics later this year – became the first person to win the 100m, 200m and 4x100m relay in three consecutive Games.
Carter, 31, was also part of the squad that won the relay in London.
He was part of the Jamaican team that won the World Championship in 2011, 2013 and 2015.
Cater did not challenge the validity of the doping results, the IOC said.