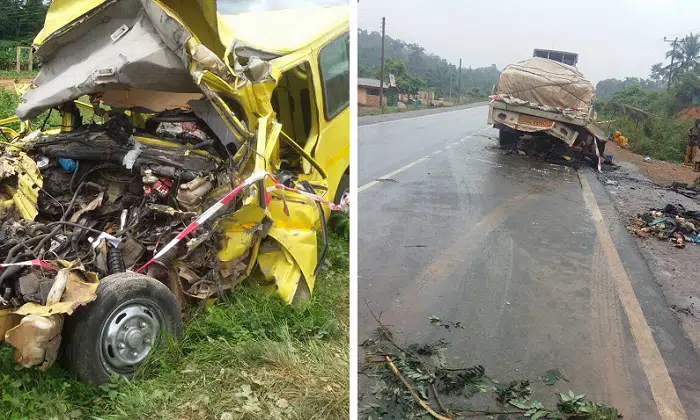 Nineteen people died last Saturday night when a Ford mini-bus on which they were travelling was involved in a gory accident at Subriso, near Wassa Akropong in the Wassa Amenfi East District in the Western Region.
The accident occurred at 7.30 p.m. when the vehicle from Bogoso, with registration number AS 2830-16, rammed into a stationary articulated truck.

The DAF articulated truck, with registration number AS  2214-X, was conveying bags of cement from Bogoso in the Prestea Huni-Valley District to Obuasi in the Ashanti Region but is said to have developed a mechanical fault and left in the  middle of the road.

Assistant Superintendent of Police (ASP) Mr Isaac Kumnipah, who is in charge of the Wassa Akropong District Police Command, spoke to the Daily Graphic and said the mini-bus was speeding and was unaware of the hazard ahead.

Rescue

Mr Kumnipah said when the driver of the mini-bus saw the danger ahead, it was too late to save the situation. He ran straight into the truck, killing the 19 people instantly. The dead comprise 11 males and eight females.

He said it was obvious that those in charge of the truck did not make any effort to move the vehicle from the middle of the road.

He added that a team went to the scene to rescue the victims, but 19 people were pronounced dead when they were sent to Wasa Akropong Government Hospital.

Death

Mr Kumnipah said the medical team worked throughout the night.

However, after several hours, the medical doctor in charge of the hospital, Dr Zack Moussah, told the police that 19 people could not survive.

Meanwhile, the bodies of the deceased have been deposited at the hospital's mortuary, while the Motor Traffic and Transport Department (MTTD) of the Ghana Police Service is working to identify the dead.