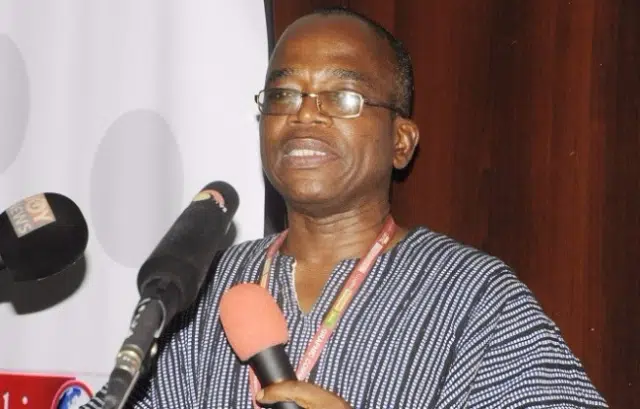 The director of newspapers at the Graphic Group of Communications Company Limited; publishers of Daily Graphic, Yaw Boadu Ayeboafo has prevailed on journalists to be mindful of their choice of words when reporting on issues of rape and defilement.
In all you do endeavor to protect the identity of the victim and not use words that will portray the victims in the bad light he added.
He explained that journalist's choice of words can glorify act of the aggressor and demonize the victim.
He said sometimes the choice of words go to demonize the victim rather than the perpetrators of the crime.
This why journalists must be very circumspect in the choice of words when it comes reporting on issues of rape and defilement.
Mr. Ayeboafo gave this admonition at the Ministry of Children, Gender and Social Protection's encounter with the media in Accra.
According to him, the words some journalist use to qualify or address victims of such crime can turn to demonize them.
He claimed the choice of words in reporting on such issues will help the Ministry's quest in shaming people who commit such crimes against women.
He urged journalists to desist from using words that goes to demonize the victims of defilement and rape.
He singled out news casters who usually use embellish words when referring to the act of sex and issues of rape during anchoring of news.
'Do not glorify people who cannot walk to woman and tell her I want to go out with you but always want to have his way he added.
On her part, the Minister Otiko Afisa Djaba called the media practitioners to partner the ministry in naming and shaming people who try to take advantage of the vulnerable in the society.
She reminded the media practitioners to strive to protect the image and identity of victims of rape and defilements.
According to her, when the identity of victims of rape and defilement are revealed in the media it turns to live with them for years and society do not help by looking down on them.
It is difficult for such victims to be accepted into the society especially when their identities are blown in the media.
She urged the media personnel to desist from creating the scenario that women get rape by the kind of dress they wear.
Touching on other social protection sectors of the ministry, she said the Livelihood Empowerment and Against Poverty (LEAP) is a cash transfer for the poorest households in the country.
She explained that the programme was introduced to improve upon the health and education status of children in the poorest families like orphans and the vulnerable.
Source:Happyghana.com