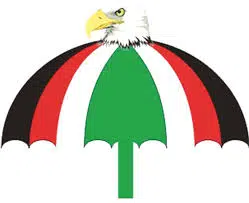 Mr. Ebo Koomson, a member of the National Democratic Congress' (NDC's) communications team in the Central Region has said the New Patriotic Party (NPP) administration lacks the wisdom to see through the appointment of Martin Amidu so, they have been caught up in their own web.
Mr. Ebo Koomson said if President Nana Akufo -Addo and his government think appointing Martin Amidu, a former Attorney-General in the NDC's administration as the Special Prosecutor was going to expose the NDC then he's lost  it because "when you throw a ball against a wall it bounces back to you" so the NPP's shouldn't be surprised when the table turns around not in their favour.
He made this statement during a discussion on Happy FM's political show 'Epa Hoa Daben' hosted by Kwame Afrifa-Mensah in Accra.
If it's because of the NDC why Amidu was appointed then the NPP should let the Attorney- General do the job because she will favour them.
President Nana Akufo- Addo signed up the bill out of pressure from Civil Society groups oh! Yes!!
Why should the NDC be frightened by Martin Amidu 's appointment because Amidu will rather fish out the corrupt NPP officials from top to bottom.
Mr. Ebo said it's funny how the NPP is using the free SHS policy to blind the eyes of Ghanaians.
The NPP hasn't done any project that they can boast of within one year in office even with the free SHS which will surely collapse in due time because I believe a lot of critical analysis didn't go into it before execution. They did that in a rush.
On the other hand, Alhaji Umar Bodinga, Eastern Regional First vice chairman of the NPP said it saddens him that President Nana Akufo Addo's one year in office can't be appreciated or acknowledged by the NDC.
Mr. Ebo Koomson said President Nana Akufo Addo hasn't done any project aside the free SHS now let me tell him this; when you get to Koforidua hospital in the Eastern Region, Nana and his government has built an oxygen department within one year in office which has solved the lack of oxygen problem in the region.
Nana and his government have almost finished paying the debt the National Health Insurance debt NDC left, it has been paid up to July it is left with August and hopefully by September the debt will have been cleared off.
Alhaji Umar Bondinga said that these have increased the trust Ghanaians have in Nana Akufo- Addo and he's still working towards everything his party has promised.
According to him, NDC' s think Nana and his governance has forgot his promises and doing other things but let me quickly remind the NDC's that, Nana is cleaning up the mess they left before seeing to his promise or else he wouldn't make any effective progress in fulfilling his promise to Ghanaians.
Now before Nana became President, he swore an oath to Ghanaians that when he becomes the President he will appoint a Special Prosecutor to stop all corruption within the country from past government to date he didn't exclude his party so, I don't understand why the NDC should be troubled.
The NDC is frightened because the appointed person is of their own who happens to know the corrupt officials in the Woyome scandal.
Ghanaians shouldn't forget that Amidu has only 7 years mandate with no interruption from whosoever not even the President himself and he's  to serve all Ghanaians and not to favor the NPP.
Source: Oparebea Sugar