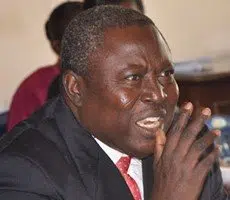 The president Nana Addo Dankwa Akufo-Addo has appointed  Martin Amidu as the head of the Special Prosecutor Office(SPO) to help deal with the issues of corruption in the country.
Mr. Amidu was the Attorney-General and Minister of Justice under the government of the late President John Evans Atta-Mills and his National Democratic Congress ( NDC) administration until he was allegedly sacked by the administration when he stood his grounds that certain individuals in the NDC be prosecuted for their involvement in the Alfred Agbesi Woyome scandal.
The president in announcing his appointment at the Flag Staff House called Ghanaians to support the choice of Mr. Amidu to help bring some finality to the numerous corruption cases that have plagued the nation.