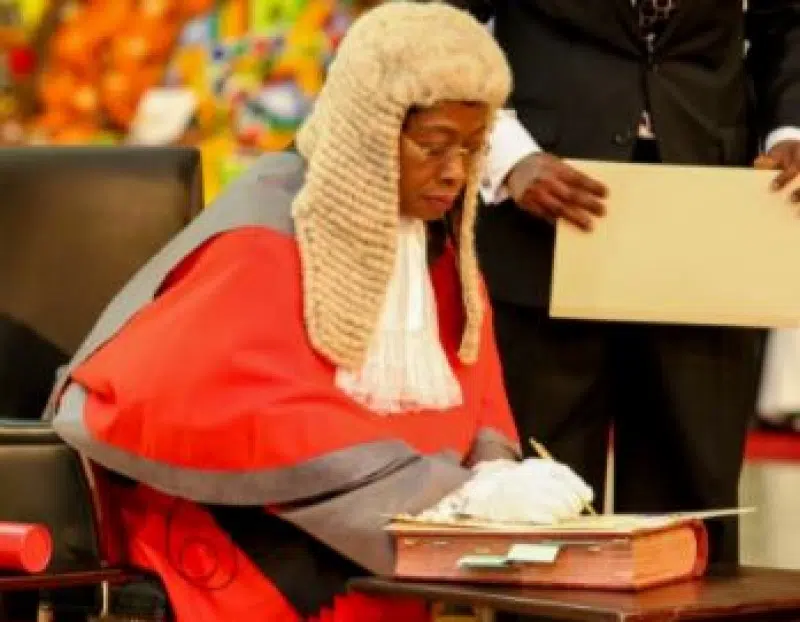 An Accra-based High Court judge had the rude shock of his life when he woke today Tuesday January 8, 2018 to see some unscrupulous individuals pulling down his fence wall claiming  the bungalow he was occupying has been sold.
The High Court judge Justice Anthony Kofi Agbaada has since been rendered homeless by the individuals who claim to be assigns of one Ofosuhene Adjei, who is claiming he bought the said property in 2008.
The said property is located in the plush Cantonments area of Accra opposite the African Union (AU) Village.
Without recourse to the status of the High Court, the said individuals amidst the shouting of 'judge my foot' went ahead tip chippings on the compound of the judge.
An witness (name withheld) told Kwame Afrifa-Mensah on the 'Epa Hoa Daben' show on Accra-based Happy FM that members of the judge's household woke up to see some group of men driving in pick-up claiming the said property has been sold to them.
According to him, before the members of the judge's household could say jack the gentlemen began pulling down the fence wall of the property.
He said all attempts by the judge to get the gentlemen to put a stop to their action proved futile as they were hell bent on rendering the judge and his household homeless.
Meanwhile, reports available to 'Epa Hoa Daben' show can confirmed that the said judge has been living in the said property since 2002.
However, the judge Anthony Kofi Agbaada in interview with the host of the show said he so so scandalize by the situation.
'My family is scattered and I have no alternative  because no bungalow has been allocated to me as we speak.
He added that the matter has been reported to the Cantonments police and the chief Justice noting the leader of the group end up threatening him.
According to him, the said leader of the group promised to come back and deal with him if he failed to vacate the property.
Source:Happyghana.com