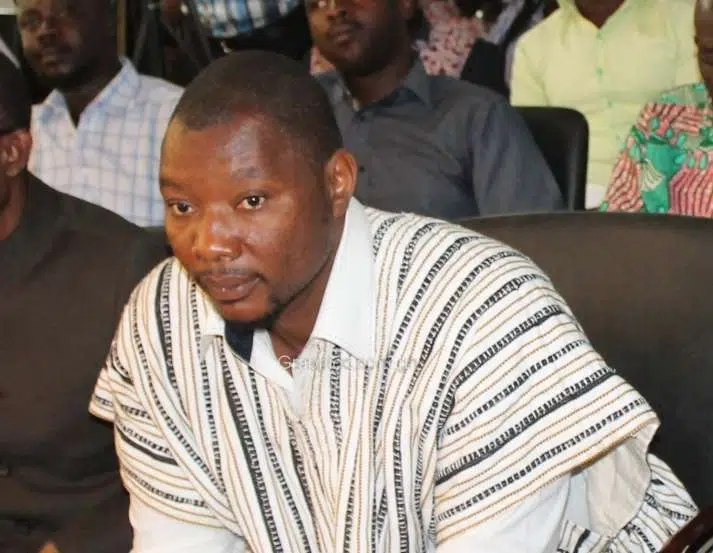 The National Chairman of the People's National Convention (PNC) Bernard Monnah, has given an account of the mistreatment he suffered at behest of the Police during a solidarity march to draw attention on the human rights abuse in Togo.
I was bundled and thrown into the bucket of a Police pick-up, as if i was cattle for the slaughter house he said.
He revealed that he is aware the National Security Minister Kan Dapaah in a close friend of Faure Gyasingbe, president of Togo and he doing to the protesters to please him.
I know the Ministers of National Security and Interior are doing what they are doing to the solidarity marchers because they want pleased their friends in Togo he added.
Mr. Monnah gave this account of his arrest by the Police over the week end in an interaction with Kwame Afrifa-Mensah, host of the 'Epa Hoa Daben' show on Accra-based Happy FM.
I was  arrested by the Police from 9 AM to 7 PM without any reason whatsover  and asked i was told order from above
They took me from the solidarity in support of the constant harassment of the leaders of the opposition members in Togo without observing my rights.
Mr. Monnah gave this account of what transpired during his arrest and seventeen others in Accra from the grounds even the police was notified of the march.
He  said was arrested in a style akin to the arrest of Pablo Escoba, the hardened crime.
He said even though the Police were notified of their decision to march in solidarity with the opposition in Togo.
He said members of the opposition are being picked -up on daily basis in their quest to fight the long stay of one family in the government.
According to him, the police was notified of the solidarity march on December 5, 2017 so it came as no surprise to the organizers when the Police appeared at the scene to arrest the leadership of the march.
He noted that he is in talks with lawyers to seek redress as his rights were violated by the police.
Source:Happyghana.com