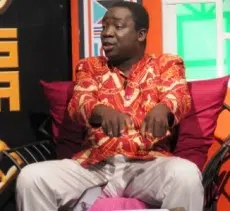 A member of the communications team of the governing New Patriotic Party (NPP), Asamoah Gyamfi has expressed his displeasure about the Asantehene, Otumfour Osei Tutu's understanding of the law that fined the Delta Force members for rioting at the court.
According to the NPP, communicator the king of the Asante kingdom lacks understanding of the law that fined the members of the Delta Force.
'I disagree with the Asantehene on his statement he made about the sentence slapped on the vigilante group' he said.
Asamoah Gyemfi, expressed his displeasure with the Asantehene's comment  on the 'Epa Hoa Daben' show hosted by Kwame Afrifa Mensah on Happy FM in Accra.
The ruling handed to the members of the Delta Force was within the law and the judgement was not wrong so I don't  get the Asantehene's beef about the ruling.
'Nobody can say the learned judge who gave the ruling did not do the right thing because the ruling is contained in the law books of the country'
He reminded the critics of the ruling that contempt is different from rioting and people should get that difference in law.
He called on Ghanaians to make that distinction clear and not confuse the issue of the Montie three with the Delta thirteen case.