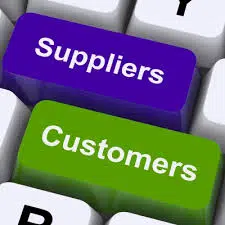 The Ghana National Association of Institutional Supplies, the umbrella organization of suppliers has smoked peace pipe with the government over their role in the supplies of goods and services for the Free Senior Secondary School programme.
The General Secretary of the association, Kweku Antwi Boasiako revealed that initial issues of the association being sidelined in the supply of goods for the government's flagship programme across the country has been settled .
According to him, the thorny issues between the association and the government have been settled.  Our members have been co-opted into the operations of the Ghana National Buffer Stock Company he streesed.
'When we complaint about the programme sidelining us we met the Minister of Education and he directed us to the Buffer company.
So our misunderstanding with the government have been settled and we now our role in the programme has been clearly defined he said
Mr. Antwi Boasiako made this revelation on 'Epa Hoa Daben' show hosted by Kwame Afrifa Mensah on Accra-based Happy FM.
He took the opportunity to commend the director of operations of the Ghana National Buffer Stock company and the Minister for the opportunity given them in the delivery of education to the the youth of the country.