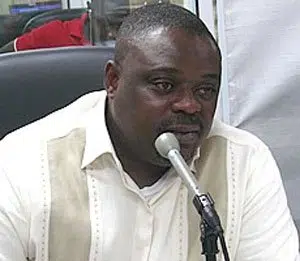 The Deputy General Secretary of the main opposition National Democratic Congress (NDC) has predicted looming hunger in the year 2018 for Ghanaians under the leadership of Nana Addo Dankwa Akufu-Addo and his New Patriotic Party (NPP)  government.
Koku Anyidoho, painted this gloomy picture for the nation when he interacted with Kwame Afrifa Mensah, host of the 'Epa Hoa Daben' show on Accra-based Happy FM.
He said because of the lack of fore sight on the part of the minister for Food and Agriculture, Army worm has destroyed the harvest of farmers across the country.
He said the man is incompetent and could not handle the issue of the fall Army worm  which has led to low yields across the country.
Some farmers have had their Cabbage farms destroyed by the Army worms because the minister failed to live up expectation of farmers he said
He noted he is not perturbed about the budget to read by the Finance minister adding that it an impoverished budget that will be visited on Ghanains.
The budget contains nothing new because farmers are recording low yields which will eventually lead to hunger in the country he said.
He christened the budget to be read in Parliament by the Finance Minister tomorrow as nothing new but a ''poor poor poor' budget.
He said this budget will make Ghanaians more poorer than ever as the budget contains nothing that will bring reprieve to the suffering Ghanaians.
This is what Ghanaians will have to bear after they voted for the New Patriotic Party on lies.