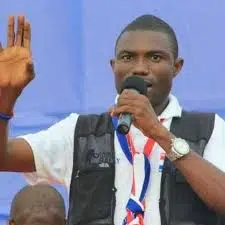 The opposition National Democratic Congress (NDC) has kicked against the candidature of Dominic Kweku Eduah as the next National Youth Organizer of the governing New Patriotic Party (NPP) saying his calibre will spell doom for the opposition party.
According to the NDC, Dominic Eduah as Deputy has carefully under studied the operations of the out- going youth organizer, Sammi Awuku and with such a person in the helm of affairs of the party  it won't auger well for the main opposition party.
Mr. Kwaku Boahen, the Deputy Director of Communications of the NDC made this comment when he gave an assessment of the young people rallying to succeed Sammi Awuku as the next Youth Organizer of the party on the 'Epa Hoa Daben' show hosted by Kwame Afrifa Mensah on Happy FM in Accra.
'We want somebody who will not show arrogance and know it- all attitude as the Youth Organizer to enable the NDC have a field day in opposition.
I known Dominic and we how he operates, he is the quite type who likes his work to speak more than speaking for himself and in politics such candidates make the work of opponents difficult he assessed.
Because such people operate in the background without making so much noise and before you get to the grounds, 'you will be told he had just gone by'.
I know Dominic Eduah, we have been in this business for long and know how he operates and as NDC we do not want him as the next candidate for the position of National Youth Organizer of the NPP he asserts.
My brother I can tell you what he did as the campaign manager for Central and Western regions in the 2016 elections.
Me I can only wish him well and wait for the party delegates to elect one of those arrogant chaps parading themselves on social media and traditional media.
It is after they have finished with their elections that we will show them what we can do in opposition he said.