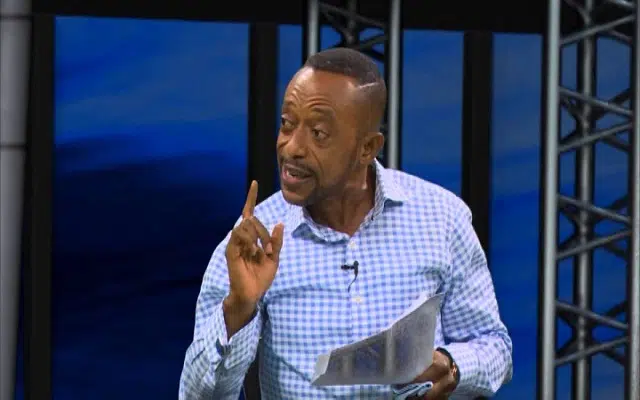 The Central Regional Chairman of the opposition National Democratic Congress (NDC) has made a passionate appeal to the sitting president Nana Addo Dankwa Akufo –Addo to distance himself and his presidency from the false activities of the General Overseer of Glorious Word International Church, Reverend Isaac Owusu Bempah.
According to Allotey Jacobs, the president must burn the demonic horn that was presented to him by the false prophet when he visited  his church after he won the elections.
He said the man is not of God and his activities on radio and television depicts he (Owusu Bempah) is not of God.
He noted that president should not allow himself to be lured by the false prophecies of the Ashanti born prophet.
'What transpired in the 2016 elections was not the making of a man but the glorious handy work of God on the president and for matter Ghanaians' he argues
Chairman Allotey popularly known as the 'International Fisherman' urged the president to go down on his needs and pray to his God and have the demonic horn the false prophet presented to him when he visited his church at Odorkor-Busia, a suburb in Accra.
According to him, the horn the false prophet presented to the president was devilish and must not be countenanced by the presidency.
The president must throw away the demonic horn given to him by the false prophet before it is too late he said.
The politician cum hotelier made this comment on the 'Epa Hoa Daben' show hosted by Kwame Afrifa Mensah on Accra-based Happy FM.
I love the president and his style in government  and he must not be seen to be deceived the likes of Owusu Bempah, a false prophet as such.
These people must not be given any attention in the Nana Addo's government because their activities are questionable in the country.
Such pastors will drag the image of the president into the mud as time goes on he stressed.
He further argued that some of the comments being bandied about  by the false prophet are not true because it was only Moses in the Bible who was elevated by God  and apart  from him nobody else has been elevated by God.
So any time a pastor makes these statements referring to a leader being elevated should tell you the kind of pastor  that person is he noted.
That man is a false prophet and it is about time he is told in the face he charged